Work socks & nordic socks
Filter options
Size
Flat seam
Stapp work socks anti static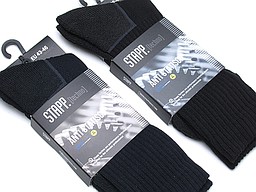 Anti static worker socks from the Stapp brand in dark navy and black. Fine knitted, and with a flat toe seam.
Art. #27310
50%polyester 30%cotton
15%polyamid 5%mix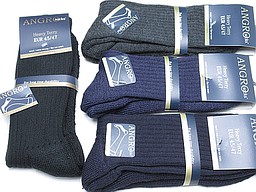 Woolen socks for in worker shoes or wooden shoes from the Angro brand. With reinforced heel and toe, and with a terry cushioned sole.
Art. #35010
40%wool
40%polyamid 20%acrylic
Stapp work socks Yellow casual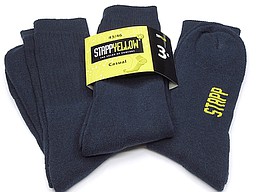 Navy colored Stapp worker socks in sets of three pair. This style has full terry in the foot, up to the ankle, so not just underneath the sole.
Art. #4400
73%cotton
24%polyester 3%elastan
Stapp work socks Yellow casual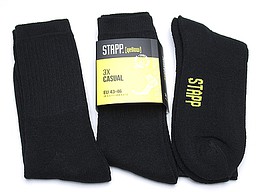 Black worker socks from the Stapp brand with a layer of terry in the foot up to the ankles. The brandname Stapp is embroidered underneath the sole.
Art. #4400
73%cotton
24%polyester 3%elastan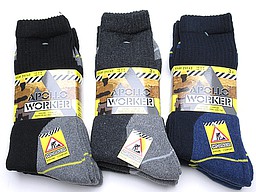 Sets of three pair cheap worker socks, all three the same color, which have a re-inforced heel and toe. Cotton rich and with a terry cushioned sole.
Art. #22430
75%cotton
22%polyester 3%elastan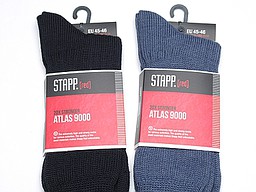 The original Stapp work sock. More expensive than most other styles we stock but, because they are so strong, worth their money. Only available in navy and denim.
Art. #
65%polyamid
20%wool 15%acrylic
Extra heavy thermal work socks from the Apollo brand. Set of three pair in black/grey tones. Can only be shipped in a box.
Art. #25925-001
40%wool
40%acrylic 20%polyamid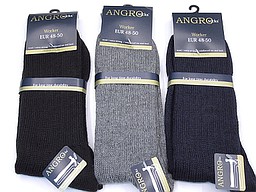 Angro work sock with meraklon, which is a very strong artificial fiber. The heel and toe are reinforced to make them even more durable.
Art. #25006
50%wool
50%meraklon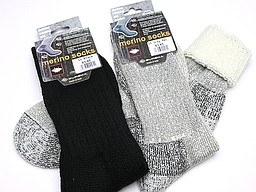 Black or grey nordic socks from 80% high quality merino wool, a wool type which has the advantage that it doesn't itch. We rolled back 1 pair to show the inside. Do not put these into a dryer.
Art. #S5/S25
80%merino wool
18%polyamid 2%elasthan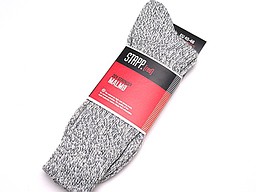 Pre-shrunk very strong nordic sock from the Stapp brand, style Malmo. With flat toeseam and also available in big sizes.
Art. #26303
50%wool
50%polypropylen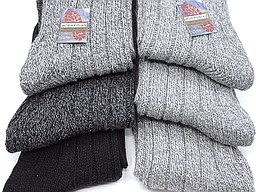 Heavy nordic socks (litterally) in sets of three, which can only be sent in a box because of their volume.
Art. #24010-000
44%wool 38%polyester
12%acrylic 6%polyamid
Stapp work socks Boston coolmax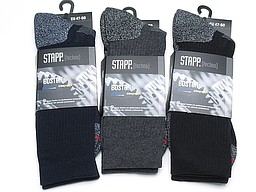 Very ventilating coolmax socks to combat sweat. Coolmax is a special yarn that enables the sock to 'breath'.
Art. #27410
40%cotton 25%coolmax
20%polyamid 15%mix
Stapp Boston thermo work socks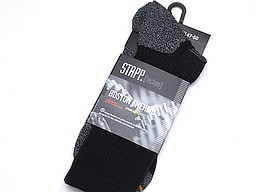 Thermal work socks from Stapp with a flat toe seam and a little bit of merino wool. They have a reinforced heel and toe for extra strength.
Art. #27450
30%polyester 34%polyacrylic
17%merino 19%mix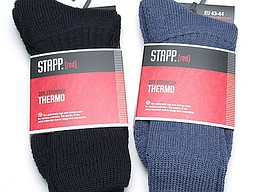 We have two types of Stapp thermal socks, and this is the thickest of the two. Half wool, and with flat toe seam. Available in dark navy and denim.
Art. #27209
59%wool
43%polyamid 7%acrylic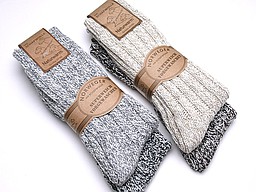 Nordic socks in a big size which are pre-washed and, because of that, will shrink less. Sets of two pair with two grey tones or two beige tones.
Art. #D6581
49%wool 22%polyacrylic
21%polyester 8%mix
Work socks info
If you rather want thinner or cheaper work socks then you can also have a look on the page with sports socks. We have those in plain black and navy as well.
Work socks in big sizes
It's not easy to find work socks, not even for us, in big sizes (bigger then size 50), but we do have black sports socks in bigger sizes up to size 54 on their own page, so maybe that's an option.

Those are a bit thinner then most work socks, but thicker then normal socks.
Share this page?


View basket / Checkout-page
Back to the top