Socks and associated legwear
If you are ordering from outside the Netherlands then your order will always be shipped in a parcel with track and trace. The shippingcosts will be clearly shown beforehand when you click the 'view basket' button in the top right corner after you have selected one or more items.

Returning items can be done without time limit as long as the items are not used.
If you need help with placing an order, or if you want to buy a specific type of socks that you can't find, please email or call us.

Some examples of our collection: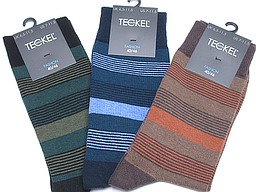 Striped men's socks in black, dark blue, and light brown, from the Teckel brand. The stripes continue over the whole sock. With pique cuff, and flat seam.
Art. #17044-B
75%cotton
23%polyamid 2%elastan
Seamless black and white women's sneaker socks in a bundle of three. Each set has three different prints with a black or white base color, and then the print in the opposite color.
Art. #31095-064
75%cotton
22%polyamid 3%elastan
Women's kneehighs patterned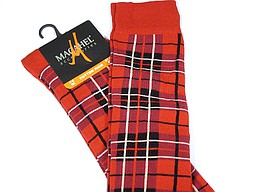 Red knee high for ladies with a checked pattern all over. This style is also available in an extra long version, which can be found on the 'overknees' page.
Art. #SLK-0109
72%cotton
26%polyamid 2%elastan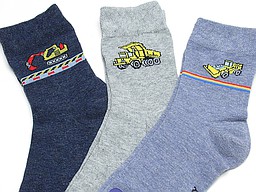 Seamless kid's socks in dark jeans, light grey, and light jeans, with vehicles from construction sites like a digger, a dump truck, and a bulldozer.
Art. #R20869
78%cotton
19%polyamid 3%elastan
Children's plain kneehighs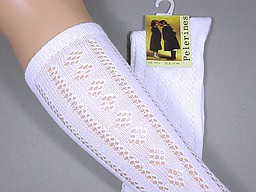 Open knitted white kneehighs with a cable pattern and a diamond like pattern in the center.
Art. #WH2270
76%cotton
13%polyester 11%nylon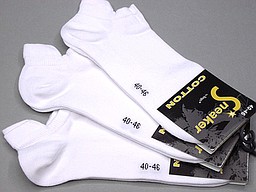 Cottonrich men's sneaker socks from very soft cotton with a higher heel, so it stays put during sports.
Art. #211300588
85%cotton
10%polyamid 5%elastan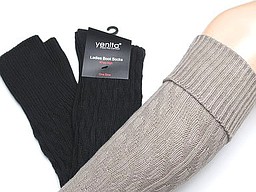 Black and beige knee highs which have an enbroidered cable motif. They are extra long and reach just over the knee (without turn over), but are not as long as real overknees.
Art. #V4039
80%cotton
15%polyamid 5%elasthan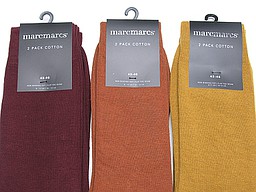 Cotton Marcmarcs socks with flat seam and non binding cuff. On this photo in burgundy red, terra (stone red), and ochre yellow.
Art. #91900
75%cotton
20%polyamid 5%elasthan
Ladies overknees patterned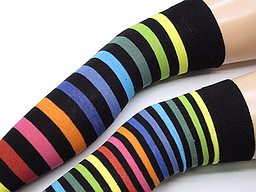 Over the knee socks with just about all the colors from the rainbow on a black background. From the Macahel label.
Art. #SLO-0272/0189
72%cotton
26%polyamid 2%elastan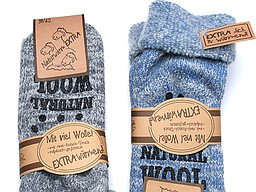 Cushioned woolen home socks from Germany that resemble the somewhat cheaper Apollo brand. This type however has more wool, and they have a flat seam at the toe.
Art. #D6572
63%wool 25%acrylic
10%polyamid 2%elasthan
Women's homesocks patterned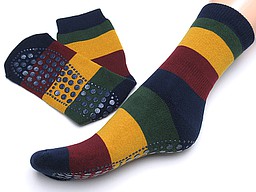 Terry cushioned anti slip socks with colored stripes (in navy, dark green, ochre yellow, and dark red) from the Yellow moon brand.
Art. #8601
92%cotton
5%polyamid 3%elastan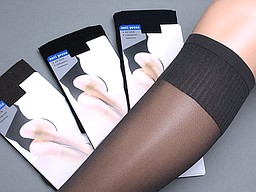 20 denier satin sheer kneehigh from Marianne with very soft anti press top. On this photo in graphite, black, navy, and antracite.
Art. #409
84%polyamid
16%lycra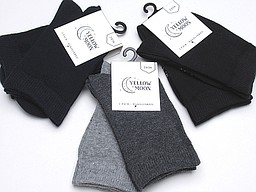 Set of two pair Yellow moon kid's socks in dark blue, black, and two grey tones. The toe has a flat seam for sensitive feet.
Art. #6100
76%cotton
22%polyamid 2%elastan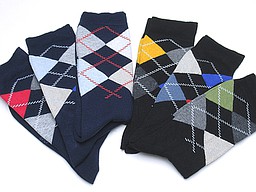 Argyle men's socks, in navy and black, with modal yarn and a flat toe seam. Modal is a very soft yarn with the same properties as cotton.
Art. #21461-001
40%modal 38%cotton
20%polyamid 2%elasthan
Solid colored baby-socks with turnover cuff which of course can be rolled back to make them a bit longer if so desired. Available in blue, navy, white, pink, ivory, and grey.
Art. #4182
75%cotton
20%polyamid 5%elastan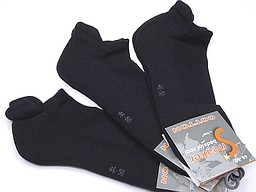 Very soft black seakersocks with a higher heel against slipping, and a terry sole with the size woven into it. With flat toeseam and embroidered size.
Art. #sneaker-bsz-000
85%cotton
10%polyamid 5%elastan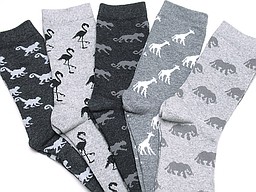 Set of five pair women's socks in grey tones with an ape, flamingo, puma, giraffe, and elephant print. The prints are all over the sock, so also on the foot.
Art. #30421-030
75%cotton
22%polyester 3%elastan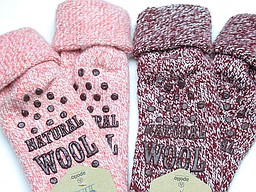 Woolen pink and burgundy colored socks with antislip from the Apollo brand. The turnover top is not stitched so can be rolled back to make them longer.
Art. #24356-001
45%wool 25%polyamid
17%acrylic 13%polyester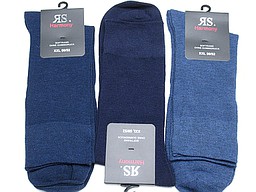 Big size men's socks in a set with dark jeans, navy blue, and light jeans. They are seamless and with non pressing cuff.
Art. #R31042
80%cotton
17%polyamid 3%elasthan
Children's tights patterned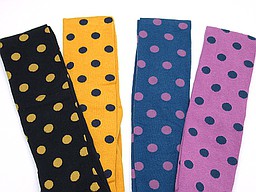 Tights with dots in a set of two pair with dark navy plus ochre yellow, or petrol plus lilac. The navy is very dark and looks like black on the photo.
Art. #40421-008
75%cotton
20%polyester 5%elasthan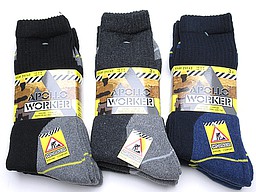 Sets of three pair cheap worker socks, all three the same color, which have a re-inforced heel and toe. Cotton rich and with a terry cushioned sole.
Art. #22430
75%cotton
22%polyester 3%elastan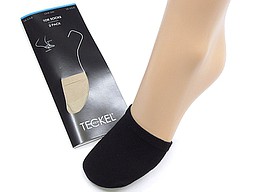 Sort of half a footie which only covers the front of the foot. It stays in place because the elastic falls behind the ball of the foot.
Art. #519
55%cotton
40%polyamid 5%elastan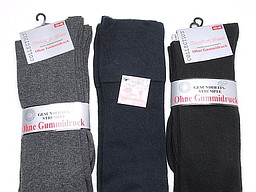 Men's kneehigh in navy, dark grey, and black with a wide subtle top and a flat toe seam. The wide top prevents pressure on the legs.
Art. #D6462
75%cotton
22%polyamid 3%elastan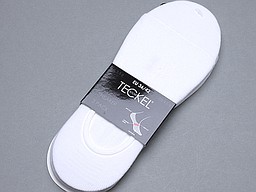 Invisible low cut sneaker socks (do not peek out above your shoes) with a silicon strip just below the welt of the heel, so they stay in place.
Art. #51600
75%cotton
23%polyamid 2%elastan
Last updated on wednesday 20 September 2023
Share this page?


View basket / Checkout-page
Back to the top