SOCKSFROMHOLLAND.COM
View basket
Socks & legwear
All kinds of knee highs, tights, pantyhoses and socks.

Most of the socks and other items that we sell will fit through the letterbox, so you don't have to be home at the time of the delivery. With larger orders it's often cheaper to use parcels, but the choice is yours.

The shippingcosts will be clearly shown beforehand when you click the 'view basket' button in the top right corner after you have selected one or more items, and they include the packaging costs.

Returning items can be done without time limit as long as the items are not used.

On pages where it's applicable you can select a size, and that page will then be updated without reloading, so you will only see items in the chosen size. For example if you choose size "EU 40 | UK 6.5", then all items with that size in the size-range will be shown. That sorting option will be removed if there are simply no sizes to choose from, like with the women's legwarmers, or if there's only one size available, or left.

The socks and other legwear on this site are intended for consumers, although orders from companies are also more than welcome of course, but that means all prices have the VAT taxes included. Prices are in euro currency, and payments can be done through PayPal, with a regular banktransfer, with iDEAL, or afterwards via Klarna. The latter two have special requirements, so please click their icons at the bottom for more information.

Please email or call us if you experience any problems, or if you are looking for a specific type of socks.
Some examples of our collection:
Teckel plain with high heel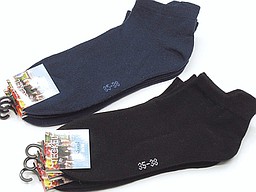 75%cotton 20%polyamid 5%elastan. Sneakers in navy and black with higher heel that prevents slipping. With flat seam. The size is embroidered in the sole, which helps sorting them.
Art. #2309
Pick size & color
With stripes and eyes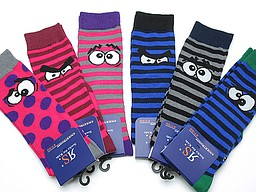 Striped kneehighs for kids with crazy eyes below the cuff. In the fuchsia/purple mix one pair has dots, and the patterns continue on the foot.
Art. #R21036
78%cotton
19%polyamid 3%elasthan
Pick size & color
With dots 2-pack
Tights with dots in a set of two pair with dark navy plus ochre yellow, or petrol plus lilac. The navy is very dark and looks like black on the photo.
Art. #40421-008
75%cotton
20%polyester 5%elasthan
Pick size & color
Lace and bow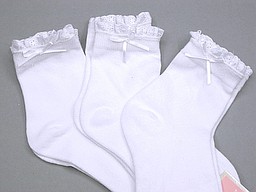 Short kids socks with a lace top, and just below that a small bow. Sets of three pair in white.
Art. #30044-001
75%cotton
22%polyester 3%elasthan
Pick size & color
Wool with anti slip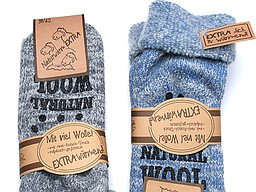 Cushioned woolen home socks from Germany that resemble the somewhat cheaper Apollo brand. This type however has more wool, and they have a flat seam at the toe.
Art. #D6572
70%wool 18%polyamid
10%polyacrylic 2%elasthan
Pick size & color
Paw Patrol
ABS kid's socks with the Paw Patrol characters Chase and Marshall in a set of two pair. Very soft feather yarn which makes them feel like bed socks.
Art. #TT2172
99%polyester
1%elasthan
Pick size & color
Stapp Yellow casual
Navy or black Stapp worker socks in sets of three pair. This style has full terry in the foot, up to the ankle.
Art. #4400
73%cotton
24%polyester 3%elastan
Pick size & color
Macahel cotton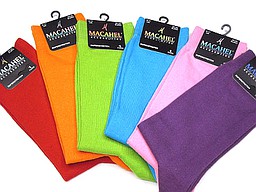 Cotton rich plain colored men's dress socks in red, orange, lime-green, turquoise, pink, and purple.
Art. #sk-he1
80%cotton
18%polyamid 2%elastan
Pick size & color
With rainbow stripes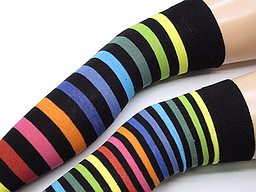 Over the knee socks with just about all the colors from the rainbow on a black background. From the Macahel label.
Art. #SLO-0272/0189
72%cotton
26%polyamid 2%elastan
Pick size & color
Argyle with wide top
Set of three pair knee socks with an argyle pattern in black, jeans, and brown. With non pressure top and flat seam.
Art. #D3477
75%cotton
22%polyamid 3%elastan
Pick size & color
Yellow moon with bow
White knee highs with a bow at the top that are otherwise completely plain in color. With a flat seam so there's no ridge at the toes for sensitive feet.
Art. #94011
80%cotton
18%polyamid 2%elastan
Pick size & color
20 denier satin sheer anti press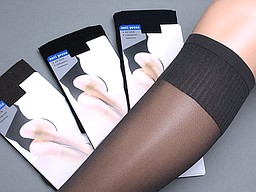 20 denier satin sheer kneehigh from Marianne with very soft anti press top. On this photo in graphite, black, navy, and antracite.
Art. #409
84%polyamid
16%lycra
Pick size & color
Bright colors
Bright colored socks for kids in fuchsia, yellow, red, green, orange, and turquoise. The red is not bright red, but a little darker.
Art. #D3192
78%cotton
20%polyamid 2%elasthan
Pick size & color
Flowers/stripes/parrots
Men's socks with flowers, stripes, and parrots which have navy and light denim as main colors. With a flat toeseam, and a subtle pique cuff.
Art. #20171-029-B
74%cotton
23%polyamid 3%elastan
Pick size & color
Various patterns
Four pair of soft antislip socks for babies in blue tones and various patterns like stars and stripes. The rubber forms the text 'happy baby'.
Art. #60033-006
72%polyester
24%polyamide 4%elastan
Pick size & color
Ultrasox with cushioned sole.
Very soft black seakersocks with a higher heel against slipping, and a terry sole with the size woven into it. With flat toeseam and embroidered size.
Art. #sneaker-bsz-000
85%cotton
10%polyamid 5%elastan
Pick size & color
LAST UPDATED ON FRIDAY 27 NOVEMBER 2020